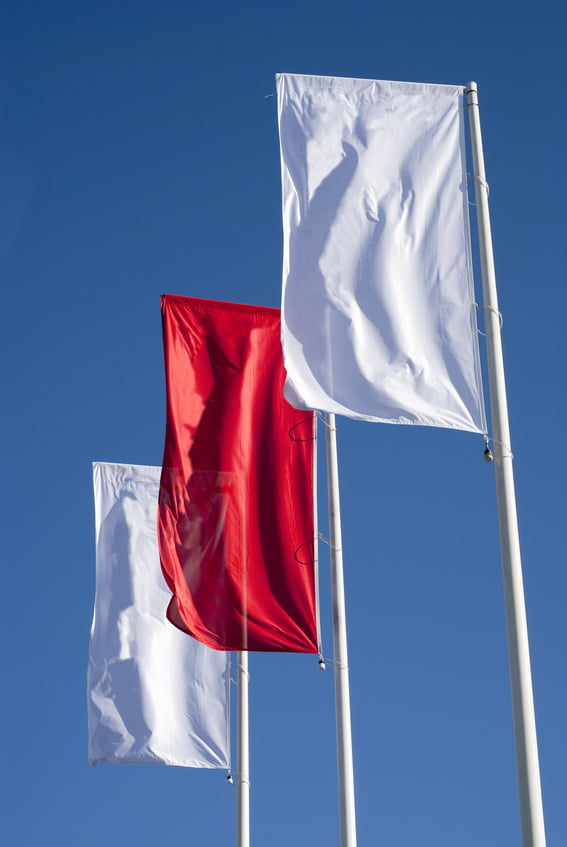 One easy way to add color to your home or celebrations is by displaying a flag. Decorative flags can be a great addition to your garden, party, or business. Styles range from the highly traditional American flags, to uniquely shaped custom logo flags used by businesses to advertise their products and sales.
How You Can Use Custom Printed Flags to Advertise Your Business
If you want to alert passersby to a good deal happening at your location, flags can be a great way to do it. They are eye-catching, can convey images and information, and can hang or be placed in multiple places. Their placement is usually not regulated, either, giving you an easy avenue for advertising.
Custom flags are a good way to add a professional, unique touch to your offerings. It's a very visual type of investment that signals to clients that you're more than just a back trunk operation.
Flutter flags, which have a teardrop shape, are popular with businesses because, unlike traditional flags, there is no fabric that can flap in the wind, obscuring the message and fraying the flag. They're easy to carry and can usually be printed on both sides.
When to Use Different Types of Flags
When you're deciding where to place your flags, it's important to keep their material type in mind. Vinyl avenue banners, for example, are great for the outdoors. Nylon and polyester are great for the outdoors as well.
Custom embroidered flags can be beautiful, but because they are usually made from cotton, are best used indoors in order to keep the flag well-preserved.
The American flag can be used for most businesses and homes. If you are going to display it, though, make sure to take proper care of it, otherwise you might end up angering customers with your neglect of a national symbol.
Make sure to properly anchor your flags in their correct setting, and in the right location. A traditional 3' by 5' flag, for example, doesn't belong hanging close to the ground.
What has your business used
custom printed flags to advertise? Let us know in the comments.