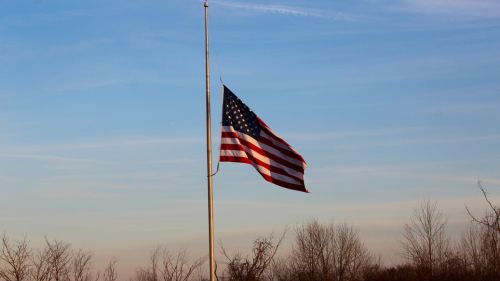 If you have a flagpole and are flying the American flag, you shouldn't have it flying high all year. When the nation is mourning or remembering, you must bring that flag down to half-mast to honor those who have lost their lives for our country. It's important to know these things about flying your flag at half-mast so you can honor heroes.
Memorial Day
Memorial Day is one of the United States federal holidays that honors soldiers who have given their lives serving in the military. Traditionally, the US observes Memorial Day on the last Monday in May. Different cities and veterans' organizations assemble parades to honor fallen soldiers. Other people may visit memorials and cemeteries to pay respects to someone close to them or to all lost service members.
The other big tradition on Memorial Day is flying flags at half-mast. However, you won't fly your flag at half-mast all day. Instead, you're supposed to fly the flag from sunrise until noon, at which point you raise the flag to the top of your pole all the way to sunset.
Periods of Mourning
In addition to Memorial Day, you should fly your flag at half-mast when the nation or your local state is mourning. These acts of remembrance are important and bring people together after a major loss or national tragedy. When a government leader dies, whether a former president, governor, or local official, you bring your flag down to half-mast. The federal government requires it in government areas, but you can do the same for your home or business.
The president can also order the nation to fly the flag at half-mast to mourn those who have lost their lives in tragic events. For example, the nation flies the flag at half-mast on September 11th and National Pearl Harbor Remembrance Day, and the president may request half-mast in the wake of a mass shooting.
Half-Mast Rules
The idea of half-mast can seem simple, but some specific rules can make flying it a little tricky. Before 1954, there was no consensus on when and how to fly the flag, leading to conflicting policies. Recognizing this, President Dwight D. Eisenhower issued a proclamation on proper times for flying a flag at half-mast, including when to raise and lower it and how long you'll need to fly it. For example, if a president or former president dies, you should fly it for 30 days, while it's only 10 for the death of a vice president.
During periods of mourning or national days of remembrance, you must honor fallen soldiers by flying your flag at half-mast. You should know that flying a flag at half-mast is an important symbol of remembrance, but to properly honor and mourn, you need a quality flag. A torn and tattered flag does not convey respect. If you need a new flag or flagpole parts, look no further than Flags USA, the reputable online flag store you can count on for all your flag-flying needs.