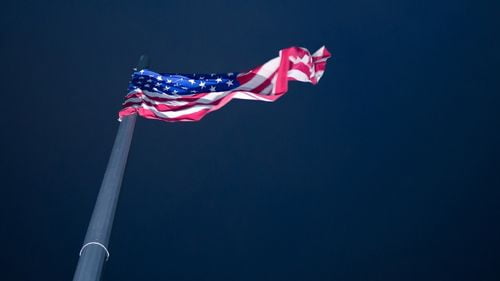 You can bring your flag down at sunset and raise it every morning, you can ignore the flag code, or you can invest in flagpole lighting. These lighting elements illuminate your flagpole and flag at night, making it visible to all passersby. Flagpole lighting transforms the exterior of your home, business, or school, giving it much more appeal when people drive or walk by at night.
Makes You Recognizable
Flagpoles are focal points for your building's exterior, and you can make them more recognizable by installing quality lighting that creates focal points. The people visiting your home, business, or school already recognize the exterior, but others can begin recognizing it with these lights that brighten up any flagpoles or exterior visuals you may have. The USA Flag Code requires you to lower your flag at night without the right flagpole lighting. The code stipulates the flag must be well-lit to fly at night, and quality flagpole lighting is the best way to do that.
What Is Flagpole Lighting?
Before diving into how flagpole lighting transforms the exterior of your buildings, it's smart to break down flagpole lighting. As mentioned previously, flagpole lighting is necessary if you want to fly your flags at night and stay within the flag code. Most flagpoles are 12–30 feet tall and have two lights on either side. Larger flagpoles need three lights 120 degrees apart. Lighting professionals can install fixtures while laying the foundation for an inground flagpole, or you can purchase LED solar-powered spotlights. All you need to do is make sure they have a high enough wattage. Thirty-five watts work for most poles with a 10–15-degree beam spread. A flagpole without the right lighting will leave a lot to be desired.
Creates a Focal Point
A properly installed inground flagpole or a standard flagpole is a great way to create a focal point in front of your building. Flags are great symbols outside of your building, drawing people's attention. Additional light will ensure people can recognize your flag display at night as well as they can during the day.
Flagpole lighting is important for showing passersby that you're there and they should remember you. Lighting will ensure your signs, building exterior, and flagpoles pop, capturing the attention of everyone walking or driving by. Any flags and signs you display must be visible, and flagpole lighting ensures everyone can see them.
A properly illuminated flagpole does a lot to transform your building's exterior. Look no further than a flagpole and light fixtures if you're interested in a new project this year. If that project sounds right for you but you're unsure where to start, come to us at Flags USA. We are the perfect source for all the heavy-duty US-made flagpoles and flags you could ever want. Come to Flags USA for all your flag and flagpole needs so you can honor your country and support American manufacturers!